Research and development
In this page, I introduce an example of the item which stimulated research and development until now.
※I carried out the research and development by collaborative investigation with local university, medical care, welfare person concerned.
A tool "upper-futon tower" to float an upper-futon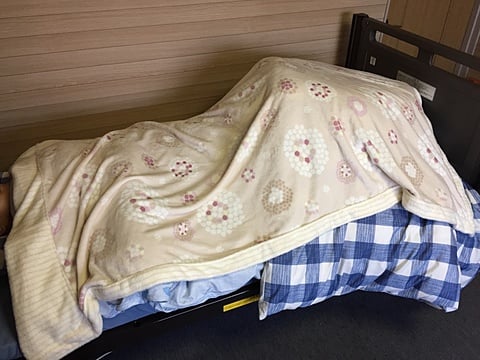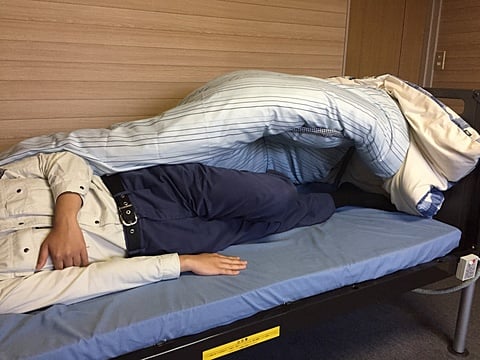 (next generation bed restraining a physical strength drop by the going to bed a ※ study name)
Summary
 In workshop business in "the welfare tool development promotion business" that Aichi carried out in 2014, there was an opinion, "the drop of the body function of the elderly person went over as movement as an early symptom and might appear for the movement." than a specialist job of the medical welfare.
 Therefore I develop the device which I can protect from cold without going over because I do not invite functional decline as an apparatus contributing to health maintenance, the promotion of the elderly person, and inhibiting movement and want to be able to continue the life that became independent.
Lower limbs control function monitoring device
Summary
 Of the elaborate nature in the lower limbs movement quantitative; if can evaluate it, can realize the supporting neighbor when a therapist designs the training program, qualitatively quantitatively substantial rehabilitation.
 This device is the device which can evaluate the elaborate nature of the lower limbs movement quantitatively.
Rising training support robot
Summary
 Toward the development of the support robot for voluntary rising training of the stroke single paralytic, I push forward local university, medical personnel state and a study.
Diaphragm robot
Summary
 In the suburbs of us, the production of products by the "tie-dyeing" to dye a design on cloth for a long time technique is carried out.
 Among work processes of the "tie-dyeing" technique, it mechanizes the binding work that is difficult work and carries out collaborative investigation with local university toward the development of the cheap robot in the small size that can produce it at low cost while raising productivity.
※This study is aimed for the succession of the traditional technique as part of local promotion.
※It is not medical care, a welfare apparatus.
▼Please feel free to contact us